Introducing the
The Curves 6 Week Solution is a unique, six week nutrition program with small, intimate classes where you'll learn to lose weight and keep it off for good.

What's different about the Curves 6 Week Solution?

Many women have a list of diets they've tried over the years and the one thing all these diets have in common is that they often fail. Why? They leave you hungry and deprived, and they slow your metabolism, setting you up for a never-ending cycle of yo-yo dieting.

6 Week Solution Classes

Say good-bye to your fat pants.

Curves introduces the end of dieting as you know it.

Just $99 includes:

- 7 Classes

- 6 Week Solution Tote

- Curves Biomultiple

- Curves Protein Shake

- Curves Member Guide

- 6 Week Solution T-Shirt*
(after attending 6 classes)

Call for class start dates:
(636) 462-5900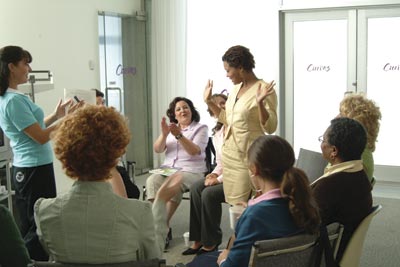 The Curves 6 Week Solution changes all that. Here's how:

- It Revs Your Metabolism
- It Allows You to Eat
- It Offers a Wide Variety of Food
- It's Healthful
- It's a Diet You Can Stick With
- Permanent Results Without Permanent Dieting
- It Works

To find out more information about this program, call us @ (636) 462-5900 or click on the 6 Week Solution logo.